Industry leaders agree to form Long Duration Energy Storage Council at COP26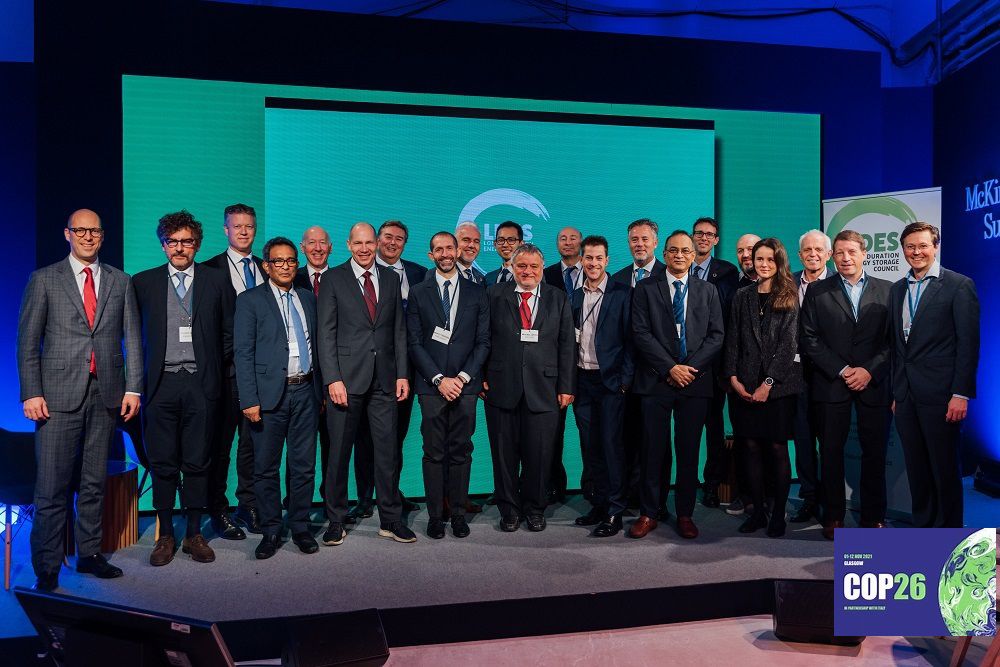 International battery storage companies are among the founder members of the new Long Duration Energy Storage (LDES) Council – which was confirmed today at a signing ceremony with industry leaders at the COP26 conference in Scotland.

The LDES, which aims to replace the use of fossil fuels in meeting energy imbalances with zero-carbon alternatives, is open to technology and equipment providers, renewable energy firms, utilities, grid operators, investors, end-customers and organisations with interests in the deployment of energy storage of renewable power.
 
Founder members using electrochemical energy storage include liquid metal battery developer Ambri, vanadium redox flow battery company CellCube, NaSICON technology developer Enlighten Innovations, Eos Energy Storage, iron-based flow battery storage company ESS, e-Zinc, Form Energy and Redflow.

LDES will offer guidance to governments and grid operators with the aim of enabling the global deployment of 85-140 TWh of long duration energy storage by 2040.
 
This would see dispatchable renewable energy used to eliminate the 1.5 to 2.3 Gt of CO2 produced annually from fossil fuels to meet grid energy imbalances, equivalent to 10-15% of total emissions in today's power sector, the Council said.

LDES Council founder member Ramya Swaminathan, CEO of Malta Inc, said: "The world is not on track to limit the rise in global temperature to 1.5° Celsius."

"Long duration energy storage is the lynchpin to decarbonisation as it can inexpensively store the electricity from wind, solar and other renewables and make it available when needed."
Related articles in our archive: