Sibanye-Stillwater takes stake in Ioneer to support battery materials partnership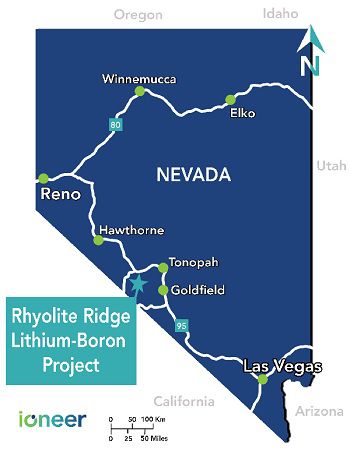 South African mining group Sibanye-Stillwater has completed a $70m (£51m) investment in Australian lithium supplier, Ioneer, as the companies push ahead with plans to become "a major force in the battery materials supply chain".

The deal gives Sibanye-Stillwater a 7.12% stake in Ioneer – and follows an agreement between the companies last month to launch a 50-50 joint venture, to develop Ioneer's 100%-owned Rhyolite Ridge lithium-boron project, in the US state of Nevada.

Sibanye-Stillwater agreed to contribute $490m for its stake in the joint venture, through which Ioneer will be the operator of Rhyolite Ridge, which is expected to come onstream in 2024.

Ioneer MD Bernard Rowe said Sibanye-Stillwater shares "our vision of becoming a major force in the battery materials supply chain and their investment further aligns our two companies as we look to bring the Rhyolite Ridge project into production".
'Low-cost lithium source'

Rhyolite Ridge is the only known lithium-boron deposit in North America and one of only two known such deposits in the world, Ioneer said.
The project is expected to produce around 24,000 tons per year of lithium carbonate / hydroxide and some 192,000 tons per year of boric acid into supply chains for EV batteries and clean tech. 

Earlier this year, battery tech developer Johnson Matthey said it would partner Sibanye-Stillwater on the development of more sustainable supply chains for battery materials and combine their metals recycling expertise for metals used in battery technology.
Related articles in our archive: