Sun Cable appoints team for Australia-Asia solar and energy storage PowerLink project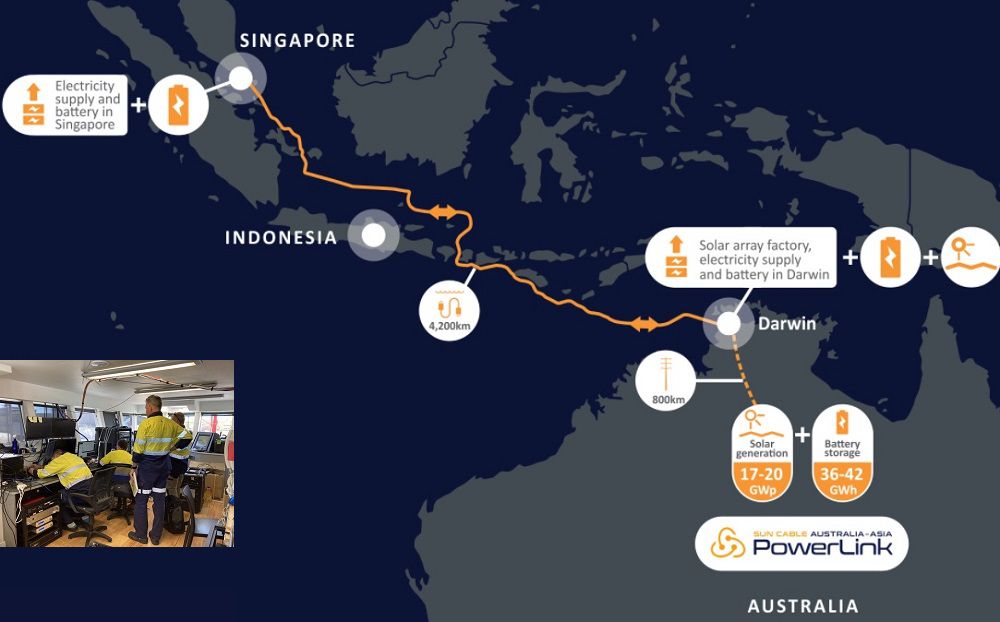 Sun Cable today announced the project management team for its Australia-Asia PowerLink Project – which will see "utility scale" battery storage paired with a giant solar farm supplying renewable electricity to Darwin and Singapore.

Experts from Bechtel, Hatch, Marsh, PwC Australia and Surbana Jurong Group company SMEC have been appointed to deliver the AUD 30bn (£16bn) project.

Sun Cable said the project would "create a game-changing, world-first renewable energy infrastructure system" – integrating a range of technologies and infrastructure, including a 4,200 km subsea high voltage direct current cable system linking Darwin, in Australia's Northern Territory, to Singapore.

Darwin will also host "one of the world's largest" solar farms (17-20 GWp), in addition to the "36-42 GWh" battery storage facility. Additional battery storage will be built in Singapore.

As this article was posted, Sun Cable had yet to respond to World Battery News' request for details of the battery technology and capacities to be deployed.

Construction is expected to start from late 2023, with the first supply of electricity to Darwin scheduled for 2026 and first electricity to Singapore in 2027.

Indonesia's government recently approved the route of the subsea cable and gave the green light to start the next stage of the cable survey.

Sun Cable said the project will be capable of supplying up to 15% of Singapore's electricity needs – with full capacity available from 2028 – and modelling shows the link could reduce Singapore's emissions by 6 million tonnes per year.
Related articles in our archive: